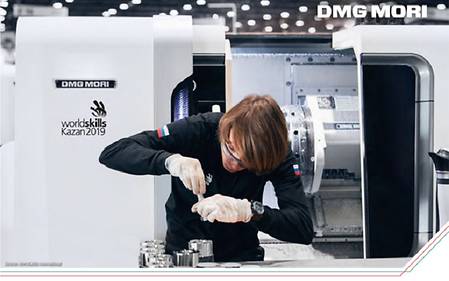 WorldSkills International is a global organisation, that supports technical training and education with a total of 81 member countrys. Every two years they hold the world championships of non-academic professions. The participants are the winners of the different types of skills (e.g. CNC-Turning, CNC-Milling) of national competitions held in advance. In addtion to international understanding, the main focus is on international exchange of knowledge and the promotion of young people.
2007 we took part with a german participant for the first time in the WorldSkills CNC professional competition, which took place in Japan. This year we were the main sponsor of WorldSkills in Kazan and provided 45 machines for the competitions. Among the participants was a DMG MORI trainee. The prospective application technician made it into TOP TEN in CNC turning and was awarded the "Medal for Excellence".
In states like China and Russia WorldSkills are particularly important in the training system. When it comes to equipment and know-how in training and further education, DMG MORI is the first point of contact. In many countries our employees are the experts ("national trainers") for turning and milling.