11.02.2022
Award-winning - Augmented Reality at DMG MORI
The DMG MORI Academy is the winner of the eLearning AWARD 2022. The project "Use of HoloLens 2 for practical training as part of blended learning" was awarded in the category "Augmented Reality".
The DMG MORI Academy, as the world's leading educational institution for CNC machine tools, has always relied on qualitative and advanced training methods. With the use of HoloLens 2 for training purposes, DMG MORI is taking a big step into the future and has deservedly secured the eLearning AWARD 2022.
Time for development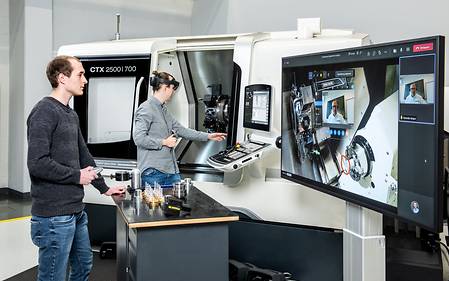 The pandemic circumstances not only made external processes more difficult, but our customers were also severely limited in their performance by the lack of training opportunities, because the productivity of a company is always linked to the fact that the employees know and can operate the machines. For this reason, it has always been an integral part of our corporate philosophy to offer our customers comprehensive practical training and thus familiarise them with the highly complex machines. The difficult situation was used to realise new concepts and ideas.
Even before Corona, DMG MORI focused on the further development of digitalisation strategies and included comprehensive e-learning offerings in its portfolio; the expansion of our online training with HoloLens 2 is the next step into a digital future. Location-independent, we can explain practice-relevant content to all our customers worldwide completely remotely without sacrificing quality. In addition, factors such as time and costs can be drastically reduced.
In the age of beaming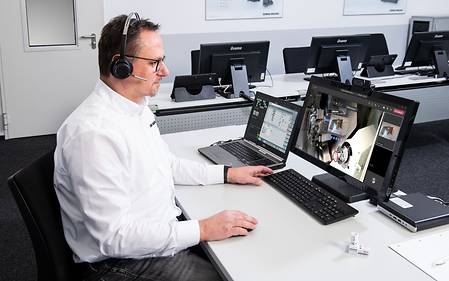 Instead of coming to one of our training centres, customers receive the mixed reality glasses from Microsoft and a speedbox from Telekom, which ensures a sufficiently stable internet connection, by post. After a 10-minute introductory tutorial, the service expert is "beamed" into the factory at the touch of a button - as a hologram right next to the machine. Through the HoloLens 2, he now sees exactly what the people being trained also see. But that's not all: the trainer can insert augmented reality elements at any time, set markers or fade in videos and photos. In this way, the operators can learn how to set up and operate the machines just as they would in an on-site training session.
DMG MORI's entire eLearning concept is made up of theoretical and practical parts. The theory is covered by the DMG MORI Learning Cloud, which has already proven itself as a digital learning platform.