19.11.2018
DMG MORI Company Canteen
Fresh, fit and healthy at DMG MORI
Sustainability is worth it. Sustainability tastes good. According to this philosophy, together with Verbraucherzentrale NRW and Umweltamt Bielefeld DMG MORI organised a sustainability day at its headquarters in Bielefeld and received the award "Climate healthy company canteen" for its company restaurant.
​​​​​​​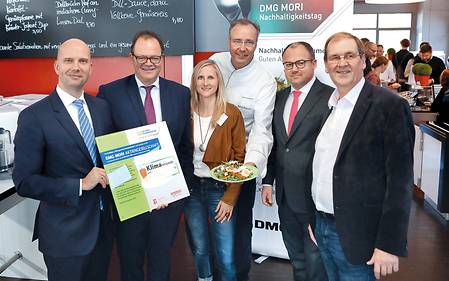 "Bielefeld wants to know" - this is the maxim of the climate campaign of the NRW Verbraucherzentrale and the Bielefelder Environmental Office. DMG MORI too! The canteen concept, which has been new since the beginning of the year and includes a carbon footprint, is something to be proud of: 
Regionality, seasonality and sustainability are the top priorities. A concept that inspires. Operator Bernhard Kampmann - both chef and owner of the restaurant "Schlichte Hof" - purchases most of the products from the region. The level of convenience, previously 70%, was reduced to below 15%. Flavour amplifiers are a thing of the past. That's sustainability that tastes good! The number of daily meals has almost doubled within a few months up to 700. DMG MORI keeps the ecological footprint as small as possible. Another criterion for awarding the certificate, which is presented by Martin Wörmann, head of the Environmental Office, is awareness of energy savings in the kitchen - for example in cooling, ventilation and lighting.
"The health of our employees is close to our hearts. They are 100% committed to DMG MORI. That's why we do the same for them," says Christian Thönes, CEO of DMG MORI AKTIENGESELLSCHAFT.