01.12.2018
DMG MORI Classical Concert
DMG MORI is supporting young talents from Germany and Japan 
An exceptional evening: As a sign of appreciation for the region and for customers, partners and employees, DMG MORI had invited MORI for the first time to a German-Japanese classical concert in the Rudolf-Oetker-Halle in Bielefeld. The evening was a complete success and reflected the cultural diversity of the "Global One Company".
​​​​​​​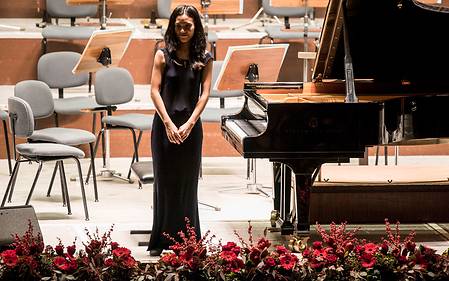 The first part of the programme belonged to the young Japanese pianist Miki Kawashima (23) and the Bielefeld Philharmonic under the baton of Alexander Kalajdzic. The prelude and fugue from the Well-Tempered Piano by Johann Sebastian Bach were followed by the overture to the fairytale opera "Hänsel und Gretel" by Engelbert Humperdinck. Before the break, Kawashima shone together with the orchestra in Chopin's Romantic Piano Concerto No. 2 in F minor op. 21. 

Contrast after a short break: The Swiss accordion virtuoso Mario Batkovic thrilled the audience with passionate playing on this unusual instrument. The highlight at the end was an emotional interpretation of Rachmaninov's Piano Concerto No. 2 in C Minor op. 18 by the young Japanese pianist Kyohei Sorita, who captivated the audience with a standing ovation. The award-winning 24-year-old artist from Tokyo has spontaneously replaced Adolfo Barabino, who fell ill at short notice. 

The 1,000 invited guests enjoyed the event, which even started at the reception with potato cake and sushi and therefore also moved culinary between Germany and Japan.

"We support the continuous and holistic exchange of German and Japanese relationships: business, friendly and, in this special case, musically. More events like this are also planned for the future," says Christian Thönes, Chairman of the Board of DMG MORI AKTIENGESELLSCHAFT.