19.07.2021
WorldSkills Germany
WorldSkills Germany - Our apprentice Samuel Zelmer secures the silver medal
WorldSkills Germany e.V. has set itself the goal of making the training landscape more attractive and better through a global network, creative ideas and passion. Under the motto "We want more! More love for the profession, more success for young people, more learning in competition", (supra-)regional and international competitions are held. As skill sponsor of the discipline 'CNC turning', we are particularly proud of Samuel Zelmer, who demonstrated his skills at the highest level.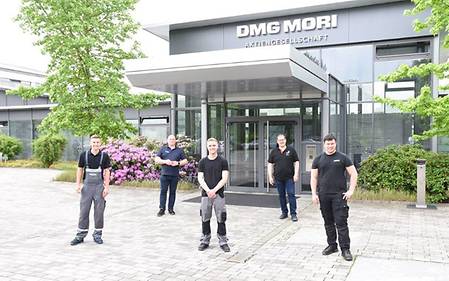 Due to the aggravated pandemic conditions, this year's German Championship in 'CNC Turning' could not take place as usual at the international metalworking exhibition (AMB) in Stuttgart. Last year, the preliminary round took place at the DMG MORI Academy Bielefeld, where 12 participants rose to the challenge and all showed outstanding performances; six of them made it to the exciting final. The gold medal went to Paul Muno (19 years old), and third place went to Merle Ruffing (19 years old); both work at Festo SE & Co. 
Three days of suspense
The participants had a total of three days to complete the competition tasks; one workpiece had to be produced per day. The basis was a technical drawing, from which a CNC programme had to be created. The competitors used the CAD/CAM software Mastercam for this. After these steps, they went to the CNC lathes from DMG MORI, which first had to be equipped with the right tools before the participants began with the calibration and selection of the appropriate clamping device. At the end, there was another opportunity to make corrections.
On the best way to the world championship
Paul, Samuel and Merle showed top performance and were rewarded for it. Together they are training for the World Championships of the Professions. The trio will represent Germany there in the discipline "CNC turning". In addition, the international WorldSkills competition will take place in Shanghai in 2022. It is still unclear who will be competing for Germany at this competition. DMG MORI is happy for all three winners and wishes them every success for the upcoming competitions!